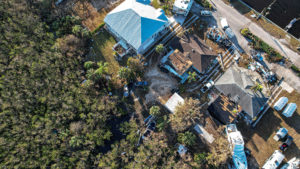 This year, Florida was hit by one of the most destructive and deadly hurricanes since 1935. Hurricane Ian is responsible for widespread damage across western Cuba and the southeast United States.
With over 135 fatalities and catastrophic damage to the area, Hurricane Ian has affected the lives of millions who now need our help. Due to the fury of this storm, traveling for rescue operations was near to impossible, which is why so many people were cut off from life-saving medical care during the storm.
Given the severity of the situation, the American RedCross is stepping in to help and our team at Rhodes Insurance Group has agreed to support their mission. If you would like, we can even help you contribute to the cause! All you need to do is recommend your friends, family, and co-workers to receive a no-obligation insurance quote from us, and we'll donate $10 for each and every one! All funds raised will go directly to American RedCross. Together, we can help the people of our community get back on their feet!